Liverpool is first, Arsenal second. What would the Premier League standings look like without VAR
Football news
20 oct 2023, 10:29
Liverpool is first, Arsenal second. What would the Premier League standings look like without VAR
In the current Premier League season, VAR intervened 25 times during matches, altering the initial decisions made by the referee.
ESPN reports that the tournament table would look as follows if the video assistant referee system did not exist:
"We are not suggesting that VAR decisions were incorrect - we are merely considering what might have occurred had the video assistant referee not been in place, and the initial decisions remained in effect," as stated in their post.
Only the initial VAR intervention is taken into account. In this scenario, VAR decisions are reverted to the referee's original call. Consequently, if a goal was disallowed due to offside, it would be counted as a goal. If a penalty was initially canceled but then awarded through VAR, it would stand. Likewise, if a team scored a goal through a penalty or an incorrect offside decision reversed by VAR, the goal would not be counted.
Considering these factors, the Premier League table would place Liverpool in the top position with 22 points, Arsenal in second place with 20 points, and Tottenham in third place with 19 points.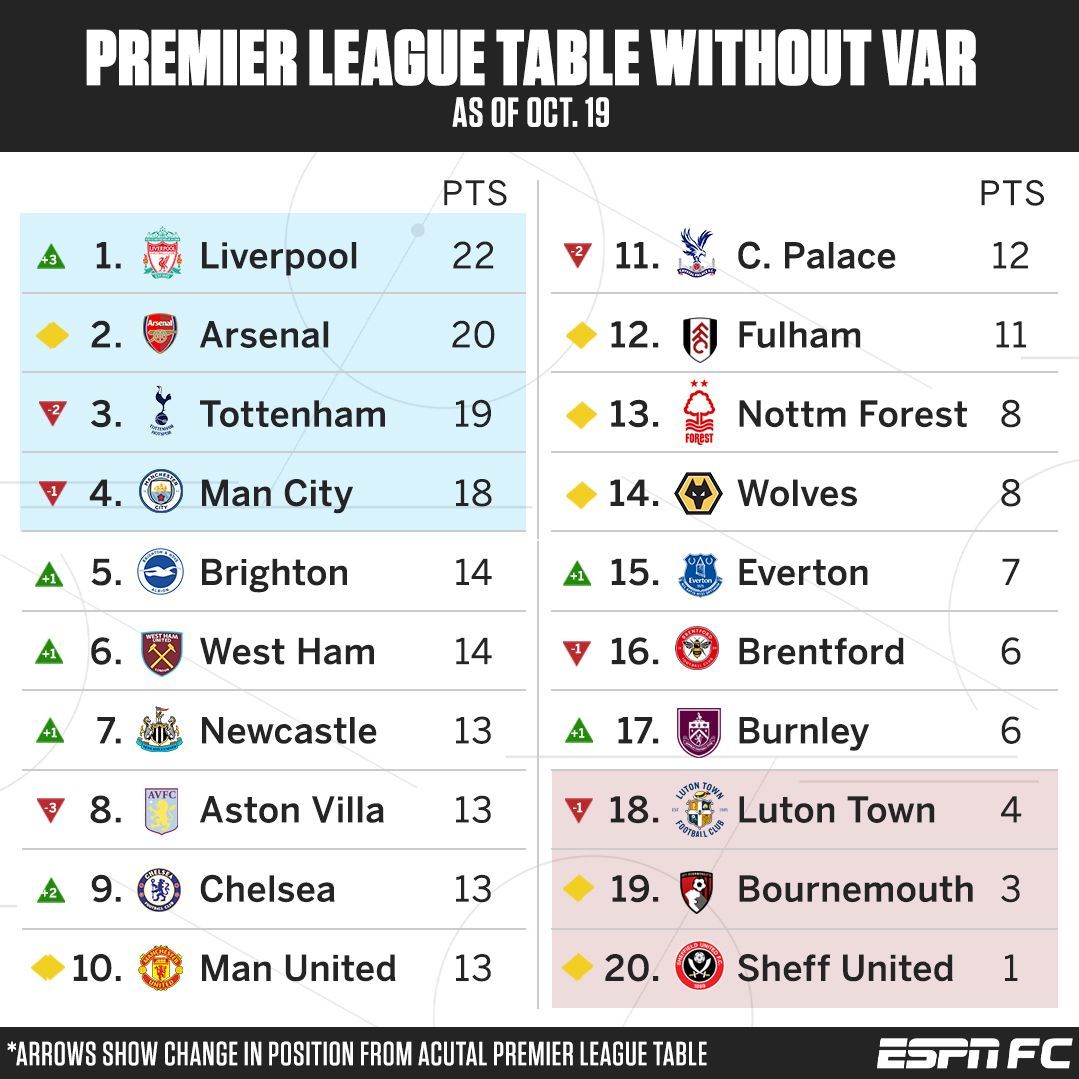 Related teams and leagues
Latest News
Football news
Today, 16:40
Serie A. Juventus narrowly beat Napoli
Football news
Today, 16:24
Aston Villa vs Arsenal: kick-off time, where to watch, Live stream, TV channel & latest team news
Football news
Today, 16:05
Serie A named the best footballer of November
Olympic Games News
Today, 15:34
The Olympic Committee has allowed Russians and Belarusians to participate in the Olympics
Football news
Today, 15:03
Ronaldo's goal and Mane's two assists. Al Nassr wins at home
Basketball news
Today, 14:40
LeBron James set a historic record
Football news
Today, 14:08
English Premier League 2023-24: table, matches and results of the 16th round
Biathlon News
Today, 13:37
Biathlon World Cup 2023/2024: schedule and results
Biathlon News
Today, 13:15
Tandrevold, Oeberg and Braisaz-Bouchet. Results of the women's sprint at the Biathlon World Cup
Basketball news
Today, 12:44
The NBA regular season of 2023-2024: standings, results and schedule
Sport Predictions
Basketball
Today
Oklahoma Thunder vs Golden State Warriors prediction and betting tips on December 9, 2023
Football
09 dec 2023
Crystal Palace vs Liverpool prediction and betting tips on December 9, 2023
Football
09 dec 2023
Blackburn vs Leeds prediction and betting tips on December 9, 2023
Football
09 dec 2023
Eintracht vs Bayern prediction and betting tips on December 9, 2023
Football
09 dec 2023
Wolverhampton vs Nottingham Forest prediction and betting tips on December 9, 2023
Football
09 dec 2023
Sheffield United vs Brentford prediction and betting tips on December 9, 2023
Football
09 dec 2023
Brighton vs Burnley prediction and betting tips on December 9, 2023
Football
09 dec 2023
Manchester United vs Bournemouth prediction and betting tips on December 9, 2023
Football
09 dec 2023
Leicester vs Plymouth prediction and betting tips on December 9, 2023
Football
09 dec 2023
Betis vs Real Madrid prediction and betting tips on December 9, 2023